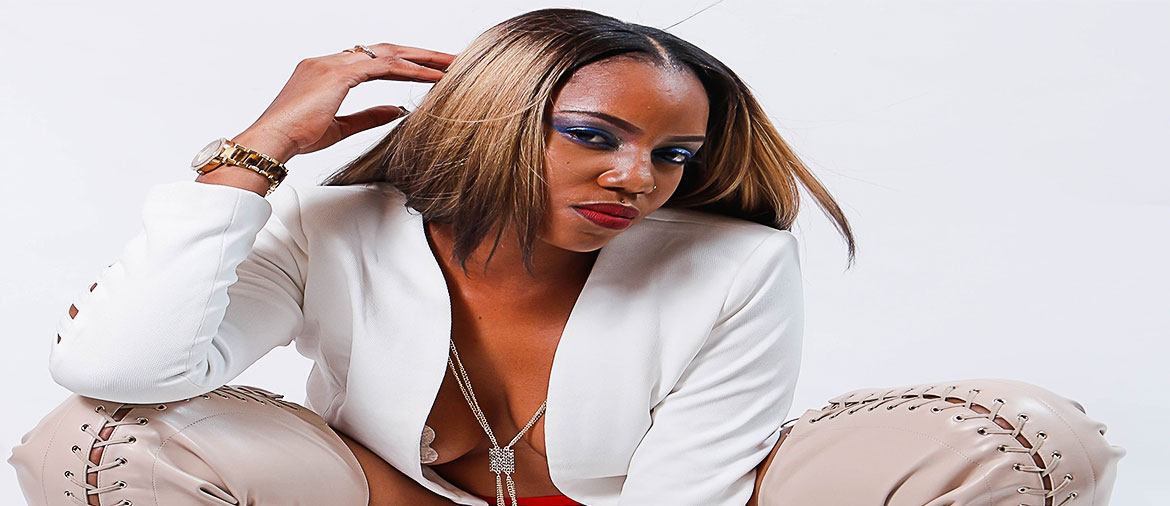 stylysh
Stacie-Ann Lamoth, more popularly known as Stylysh, was born in a community off the Red Hills Road, called Common. It is normal for children to be born and raised by single parent, which in this case is the fact. She has five (5) other siblings, and being the oldest of them all, she had to be the one whom her mother relied on for assistance in taking care of the younger ones. As she understands it, her father migrated to the United States when she was only three (3) years old.
Finding it hard, they moved to Waterford in the Portmore Area of St. Catherine, where her mother being the only bread winner in the family, worked as a Tailor, making men clothes for her living, whilst they went to school.
Stylysh always had a creative side to her, so at an early age, started writing poems, and making herself available for drama classes, where she participated. As time went by, she began to write songs and sung them to her peers. Inspired by the deejays in her neighborhood, she watched and learned from them all. Once she completed High School she took her inspiration to another level, where she entered the Magnum Kings and Queens of the Dancehall, in 2011. This brought her national attention, and finished in the competition in the top 5.
Stylysh was now sure that she wanted to be an entertainer, the placement got her to perform on major events in Jamaica, where she was now being noticed by the prominent producers and being asked to voice on their riddims. These producers include, Snowcone, Uim Records, YVP Records, Guzu Music, So Unique Records, and Just Us, to name a few. This enabled her to be on the juggling, being released, and help to garner her career in the music business.  Her Sting Performance of 2012, opened the doors for her to tour with the then sensation Tommy Lee Sparta, which took her all over Europe.  In 2013 Stylysh's single "Fall In Love" gave her rave reviews by most of the media reports during that period, which landed the opportunity for her to do a collaboration with the great Vybz Kartel "Are You Ready" which cemented her name in the industry.
In 2014, after touring with Tommy Lee Sparta, New Label Building Block Entertainment 1, signed her to their label. She is now ready for the world, with songs to her name as "Gypsi", "Willing To Share"  "Prison Wife", "Rave", "No Eye Water", "Secret Lovers" featuring "Ishawna".
2015 marks a New Year, new expectations, and new music. So far "Prison Wife" and video was released and receiving good rotation on the airwaves.  Stylysh is presently in the studio, working on her new album, with single "Hot Long Time" now released on ITunes, with her spanking new video is now available and is being heavily rotated on the airwaves. Stylysh the new dancehall sensation is ready to work and the new force to be reckoned with. Watch Out World.
COUNTRIES TOURED:
Italy, Germany, Switzerland, Sweden, France, Caribbean Islands
VIDEOS:
Medley video for songs "Are You Ready" featuring Vybz Kartel, "Real Hot Gal", "Gypsy", "Fall In Love".   "Prison Wife", "Hot Long Time" produced by Building Block Entertainment 1
ROLE MODELS;
Female Artists:     Lady Saw, Tanya Stephens, Grace Jones, and Patra
PRODUCERS previously worked with: Snow Cone, UIM Records, So Unique Records, Seanizzle Records, Andrew Blacks, Notnice, Justus, Friends for Real Records, Truck Back Records, Guzu Music, Chase Mills Records, Pushayute Records.
Social Media: